Meet Our Team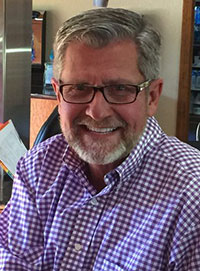 Danny J. Fuchs, DDS
I'm Dr. Danny Fuchs. I have been in dentistry for over 30 years. I grew up in the Elk City area, graduated from Merritt, went on to Southwestern at Weatherford, then on to the OU College of Dentistry. While in dental school, I met my wife and partner in business, Cathy. My wife and I have practiced dentistry together here in Elk City since 1985. We have two grown children, Landon and Macey, a daughter-in-law Ashley and three grandchildren.
I love doing dentistry! It has been and continues to be a very rewarding career. I am really glad that I chose the field of general dentistry, because I enjoy being able to do a variety of treatments for my patients. From Endodontics to Orthodontics...I enjoy it all. I place an emphasis on staying up-to-date on the best, most current methods of treatment for my patients. Therefore, my team, Cathy and I attend a lot of classes to stay on the "cutting edge" of dentistry.
I particularly enjoy the "people" part of dentistry. I enjoy doing the technical, professional part of my job, but the best part is the long-time relationships and friendships with my patients. Some have been with me for the full 30 years of my practice! I am blessed to have this relationship with my patients and to work alongside my team and my best friend, Cathy.
Fuchs & Fuchs Dentistry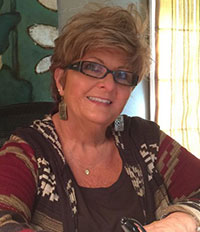 Cathy H. Fuchs, DDS
Hello. I'm Dr. Cathy Fuchs. I'm originally from Texas, but moved to Oklahoma when I was 15. I graduated from high school in Norman and then got my bachelor's degree from OU in Secondary Education. I then went to dental school at the OU Health Sciences Center in OKC. That's where I met Dr. Danny. We graduated from dental school in 1983, got married in 1985 and have practiced dentistry together for over 30 years. People often ask me, "How do you work with your husband every day?" It's really quite easy. He's an exceptional man...he has to be...he works with 7 women every day!"
I share with my husband a love for dentistry. It has proved to be a great career choice for me. We both love learning about the latest materials and treatments in dentistry. I particularly love the fields of Cosmetic dentistry and Orthodontics. The best part about these two areas is the feeling I get when someone's life is changed because I have made them feel better about their smile...and consequently about themselves!
I guess my greatest joy in practicing dentistry is in the relationships I have with my patients, my team (and they ARE the best of the best by the way) and of course, with my colleague, friend and partner Dr.D!
I'm anxious to help you attain a healthy, functional, more beautiful smile. As the saying goes..."Never underestimate the power of a smile!"
Fuchs & Fuchs Dentistry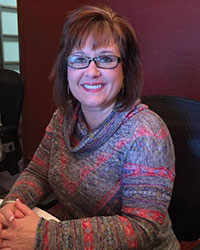 Denise
Front Office Manager
More than likely, I'm the first one you'll talk with in our practice either on the phone or at the front desk. I look forward to welcoming you!
I'm a native of West Texas and moved to Elk City 15 years ago. I moved here with my two sons and my husband of 31 years.
I have been with the Fuchs Dentistry team for two and a half years. Although I worked in the dental field for a short time many years ago, this was a definite career change for me. I have worked in the banking industry in more recent years. I am enjoying getting to know our patients as well as learning more about dentistry. The doctors encourage all of us to learn more about our field of work and I find this most challenging.
In my time away from the office I enjoy traveling, card making and spending time with family and friends.
Fuchs & Fuchs Dentistry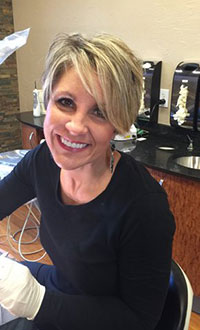 Jody
Dental Hygienist
My name is Jody. I have been a hygienist for 15 years. My main goal as a hygienist is to help you, my patients, keep your teeth through maintaining healthy gums. I have attended and will continue to attend numerous continuing education courses so that I may stay up-to-date on the most current information and methods of treatment to meet this goal. Many of these classes were given at the Las Vegas Institute which is on the cutting edge of state-of-the-art practices in dental hygiene. Doctors Danny and Cathy encourage me to go and learn and to stay up on the most current treatments and information. I feel blessed to pass along the things I have learned to my patients. I know that my work here is important because I have helped many people save and maintain their teeth!
I love being a hygienist and part of the team here at Fuchs Dentistry. We are a fun, laid-back office. We love our patients and we love our jobs. I feel this sets us apart from all other dental offices!
I look forward to meeting you and to helping you obtain and maintain a healthy, more beautiful smile!
Fuchs & Fuchs Dentistry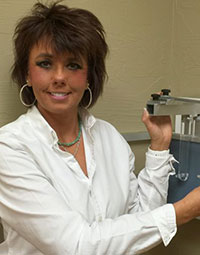 Mecca
Certified Dental Assistant
Hi! My name is Mecca. I have been assisting Dr.'s Danny and Cathy Fuchs for over 12 years...and I was their patient before that! I assist them in the clinical area doing fillings, crowns, orthodontic procedures, implants and full-mouth restorations. We are constantly looking for new and better ways to serve you, our patients. We attend courses several times a year so that we may further our education and bring that information to you. We pride ourselves in learning and practicing the latest methods in dentistry!
Come meet our team! We are dedicated to getting your mouth and overall health the BEST it can be! Come SMILE with us!!
On a personal note, when I'm not working here at Fuchs and Fuchs, I enjoy spending time with my family, reading, church activities and coloring my hair (REALLY! Just ask my coworkers!)
Fuchs & Fuchs Dentistry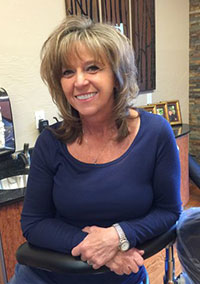 Carol
Certified Dental Assistant
I'm Carol. I have been with Fuchs and Fuchs Dentistry for 24 years. I enjoy working in the dental field because every day is something different and usually a great experience. I love the fact that we are constantly learning and promoting our education here at Fuchs Dentistry. Every year we attend several educational courses.
We always attend some classes at the Las Vegas Institute for Advanced Studies. The institute is known world-wide for its progressive educational opportunities and for teaching dentists, hygienists and assistants the most up-to-date methods of treatment. I find learning new techniques fun and challenging. It's always great to bring home to Oklahoma the things we have learned and share them with our patients!
I have been married to my husband for 36 years. My husband and I have two grown children and three wonderful grandsons! In my spare time, I enjoy sports, gardening, baking and spending time with my family.
Looking forward to seeing you at "chairside" and helping you restore and maintain a beautiful smile!
Fuchs & Fuchs Dentistry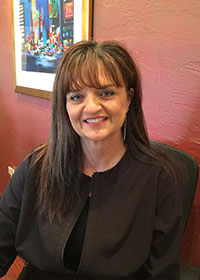 Susan
Front Desk
Hi! I'm Susan. I am the new girl on the team as of March 2016. I previously worked in an ophthalmology practice for 16 years. I work at the front desk at Fuchs and Fuchs Dentistry. I will assist you with your appointments, your paperwork and your insurance claims. I look forward to meeting you in our office or talking to you by telephone!
I have been married to my husband, Shawn for 20 years. We are both from Western Oklahoma. He is from Sweetwater and I am from Reydon. We have two boys who love to rodeo! Shawn and I love to watch our boys doing what they love in our spare time. You'll usually find us at the rodeo arena on the weekends!
Fuchs & Fuchs Dentistry