Cosmetic Dentistry
Teeth Whitening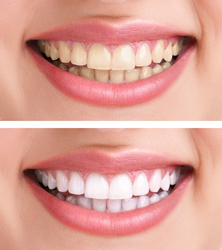 Today's teeth whitening treatments are so easy, convenient and affordable that they've become a regular part of everyone's beauty routine. If you haven't tried one yet, you'll be happy to know that you have two options to make your smile whiter and brighter! The first option involves custom-made trays that fit no one else's teeth but yours! This ensures that the bleaching material comes in direct contact with every tooth. It also protects your gum tissue from exposure to the stronger bleach. This type of bleaching will give you the fastest and most effective whitening. We also have a strip bleaching kit that might be right for you. These professional grade teeth whitening kits produce excellent results over a longer period of time. These strips contain a stronger bleach than the over-the-counter kits you purchase at the store. We have had great results with these simple, inexpensive kits.
Single Tooth Implants
If you're missing a tooth and want the very best dentistry has to offer, you could be the perfect candidate for single-tooth implants. Single-tooth implants act as tooth roots for replacement teeth. They are securely anchored into the jaw and topped with a dental crown for the very best in look, feel and function. Single-tooth implants offer several advantages over other tooth replacement options, such as dental bridges and partial dentures. Surrounding teeth and the jawbone are better preserved. Single-tooth implants are also easier to clean. And they can also outlast bridges and dentures by about 10 years!
Porcelain Veneers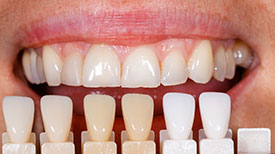 Years ago, smile makeovers involved multiple dental treatments over a period of several months. That's no longer the case, thanks to porcelain veneers. Porcelain veneers are ultra thin shells made of translucent porcelain that can be bonded to your teeth for cosmetic purposes. Extremely versatile and durable, porcelain veneers are an excellent option whether you want a total smile makeover or need to cover a chipped tooth, mask a cracked tooth, or close gaps between your teeth.
Orthodontic Treatment
Orthodontics can be done on patients of all ages! It's not just for teenagers anymore! We have patients in braces from eight years up to sixty years! Braces can be done to improve the appearance of your teeth or to improve the function of your jaw and muscles. We have been doing orthodontics for over twenty five years. Our patients love the convenience of staying in this area rather than going to Oklahoma City to complete their orthodontic treatment. We do braces, appliance therapy and clear removable appliance treatment. We will be happy to discuss your options with you.
Cosmetic Dental Implants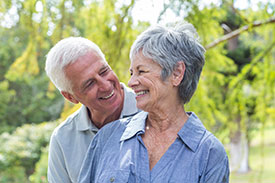 It's almost impossible to feel confident when you smile if you're missing teeth. Cosmetic dental implants can change that. With cosmetic dental implants, you get the best in function and aesthetics. Cosmetic dental implants are securely anchored in the jaw bone for maximum comfort and durability. The replacement tooth, or dental crown, is made of tooth-colored porcelain so that your cosmetic dental implants look, feel and function just like your real teeth!
Smile Makeover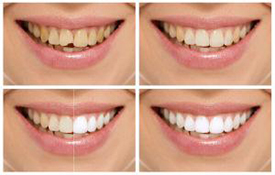 Tired of masking your smile because you don't like the way your teeth look? A smile makeover can be a big boost to your confidence and self-esteem. With a total smile makeover, chipped teeth, cracked teeth, gapped teeth, crooked teeth, stained teeth and gapped teeth can be completely transformed into the smile of your dreams. This is done through a combination of restorative and cosmetic dental treatments, including white fillings, cosmetic dental bonding, porcelain veneers, cosmetic dental crowns, dental braces, dental bridges and dental implants.